Some of the most controversial characters in Sentai can be classified under two subgroups, the "screaming reds" and the "ditzy" girls. These characters tend to have similar traits, hyperactive, bubbly, sometimes childish, and outright idiots. They divide fans. Some love these characters for being fun, energetic, or even funny. Other fans get headaches from watching them, being annoyed by how loud one screams or squeals, or even how hyperactive they are. One thing I've noticed is that while Sentai had these or similar types of characters before, the trend seemed to start with Dekaranger. Perhaps it was Dekaranger's popularity that influenced writers and producers to make more similar characters. Also, while there were a handful of ditzy girls before the 2000's, I'm focusing more on the 2000's because that's what I've seen mostly and where the trend seems to start.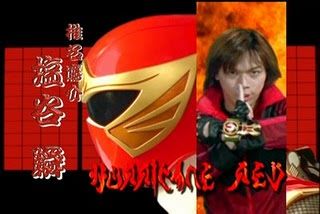 Yousuke is seen by some to be the first screaming red type. He was the stereotypical idiot hero, but was more of a screecher than a screamer. With Yousuke, I'm not entirely sure if he's even meant to be as much of a screecher as he is. The actor's acting wasn't very good and often had awkward delivery. As a character, Yousuke also fell flat in comparison to the other Hurricaneger characters. His character had ego problems, and often fought over little things, had conflicts with his sensei, or with Kouta over who was chosen to be captain. Yousuke also didn't have a storyline that stood out with his character, like Nanami with her singing career, Kouta with his sister and grandmother, the Goraijers with their father, or even Shurikenger with Gozen.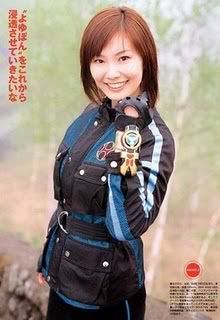 Some fans classify Nanami as one of the ditzy girls, though I don't really see it that much. Like the other Hurricanegers (and many who fall under the ditzy stereotype) she's cheerful and energetic, but I don't really see the "airheaded" part in her. Nanami acted like an airhead in episode 43 after reacting to Gozen not eating her New Years dinner that she cooked, but that's really the only time throughout the series where she seemed airheaded to me. She had some instances where she fell for a Jakanja trap, but I don't think it would be any different for any average human given the situation. The character herself I thought was fun and enjoyable. I felt her actress did a good job handling the hyperactive aspects of her character, and had her idol drama going on as well.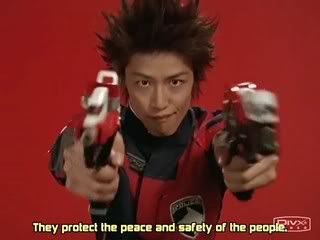 Ban was the first true "screaming red" character in Sentai. With the exception of Boukenger, Ban was the first of a series of screaming reds that ended with Go-Onger. He seems to be modeled after the cowboy cop stereotype. Him and Jan are probably the loudest of the screamers, as such he tends to annoy fans more. His actor does overact at times, but I found many of his quirks to be pretty funny. Examples being drop kicking Hoji for acting pathetic from a mistake, and the wild, recklessness of his character. What made his personality interesting was the sharp contrast between him and Hoji, the by the book cop, and how both characters interacted throughout the season. At times this interaction got a little grating because of their respective personality nuances, but it was still fun to watch them grow together and respect each other throughout the series.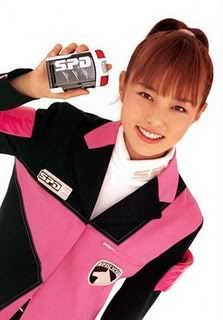 While Umeko wasn't the first ditz in Sentai, like Ban she started a trend with this type of character. Dekaranger through Boukenger all had a ditzy female character, and later Goseiger had a ditz as well. Among all the ditzy characters, Umeko is probably the most simplistic, without much depth or development. However, her actress IMO did the best job with the character and was fun to watch. Her actress had good comedic range and was pretty funny. She had funny moments like the drunken boxing episode, and she felt like what the writers were aiming for: a cute, funny, and more like a kid who was untypical for a cop, but still had her traits that made her valuable to the space police. However, Umeko isn't all that ditzy. Despite having her airhead moments, she has some rather good ideas for handling the various cases that the Dekarangers encountered. This included situations like her being a negotiator, and going under cover in the dream state to help her team catch an alienizer who invaded other people's dreams.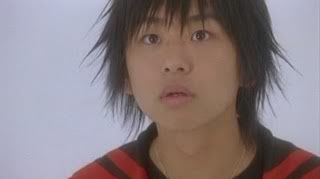 Following Dekaranger's success, Magiranger built many of their characters with similar personalities to their Dekaranger counterparts. This included Magiranger's version of the screaming red, Kai. Kai was a lighter version of Ban, reckless, rash, and a screamer, but not as loud as Ban. As such, he doesn't get criticized as much as Ban does. Being the youngest sibling of the Magiranger cast, Kai had an innocence element that also added a bit of flavor to the character. He also matures later on towards the end of the series. IMO, Kai was descent. His innocence, along with his interaction with Yuka and rivalry with Wolzard made him interesting enough to watch.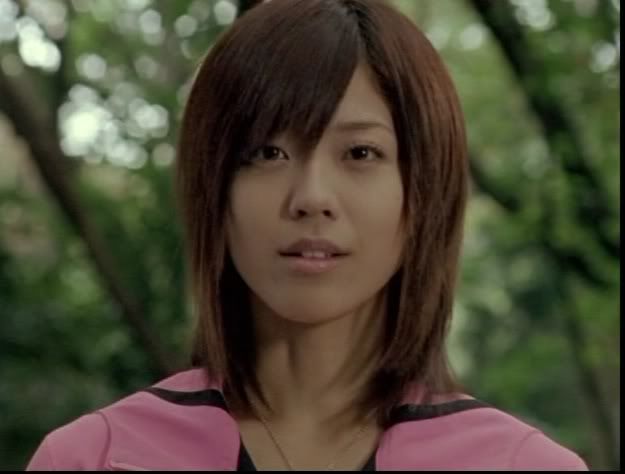 Likewise, Magiranger had its own version of the ditz, Houka. But with Houka, having her as the "kiddy ditz" didn't really make sense. She was the second oldest of the Magiranger siblings, and the writers seemed confused as to whether they wanted to make her the comedic ditz or the motherly figure of some past Sentai pinks. They got something in between that didn't quite work. Her ditzy characteristics were the worst part of her character. The actress IMO didn't really fit well with the character. Furthermore, she felt more often like she was more meddlesome and in the way, than fun. One example being her trying to be a matchmaker for Kai and Yuka, but making the situation more messy.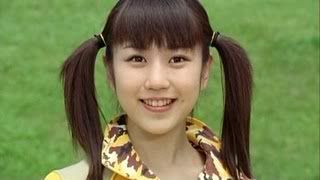 Of all the ditzy child-like characters, I felt Natsuki was the most believable and understandable, in the way that she was written. She acted childish and was airheaded, but she was a character that felt like she actually was a child in an adult's body. She had no memory of herself, and was in fact, in suspended animation throughout what would have been her childhood. So without a real childhood and ignorant of civilization, I felt it made more sense that she would act like a child, was airheaded, and still growing up. Her storyline also helped make her interesting. The actress did ok with her role, but was still enjoyable nonetheless.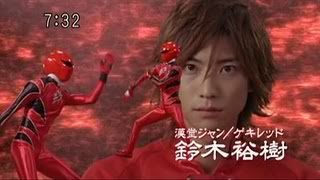 Like Natsuki, Jan was the most well-written of the screaming reds. I'm personally mixed on the character. Like Natsuki, he has a believable background of growing up away from civilization (in a jungle actually), and didn't know how to interact with humans regularly. He also has an interesting storyline to go with his character. My complaint with him are some of his quirks. I felt he screamed and overacted too much at times, and also the way he threw temper-tantrums at times got really grating. He does mature towards the end of the series which helps, but at times it felt like a chore for him to get there.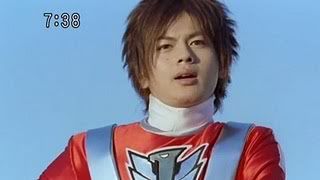 In terms of IQ, Sousuke is easily the dumbest character on this list. Sousuke was the standard idiot hero, and had little of a storyline in comparison to Jan, Kai, or Natsuki. At times his idiocy does get over the top, but I felt he pulled off the idiot hero character pretty well. He didn't annoy me like other idiot hero characters do, and I felt his actor had the charm to make him enjoyable to watch. Like Hoji and Ban, the contrast between him and Hiroto made the two enjoyable to watch. But what really helped his character was his relationship with his Engine partner Speedor. I thought the two had some good interaction and character development from this interaction.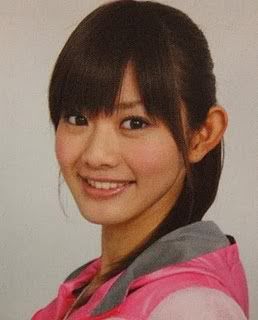 Eri is the last character to be a ditz so far. She was... up and down. Compared to the other Goseigers she had a little more personality and probably the most consistent characterization along with Alata (which isn't saying much). However, there are times where she can get irritating, particularly when she squeals or when her mind goes to a thousand places at once. Also like virtually all of the Goseiger characters, she has very little character development. Her actress did an ok job in general, but like the rest of the Goseiger cast, didn't know how to handle the bad script.