Warning, Spoilers Ahead.
Note: Some photos courtesy of Super Sentai Images.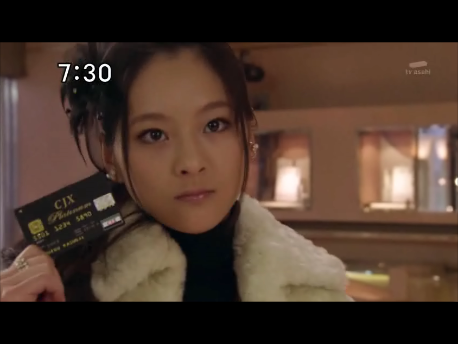 The episode starts out with Luka and Don shopping for jewelry. Luka is about to buy a ring when a rich girl named Komaki, who at first comes off as a stuck up rich brat. She offers to buy the entire store before her father walks in and scolds her. Luka then complains to Komaki's father about her daughter's lack of appreciation for money, saying "money powers everything in this world." Komaki's father likes Luka's attitude, and offers to hire Luka to work for him to earn the ring that she was going to buy. Luka accepts.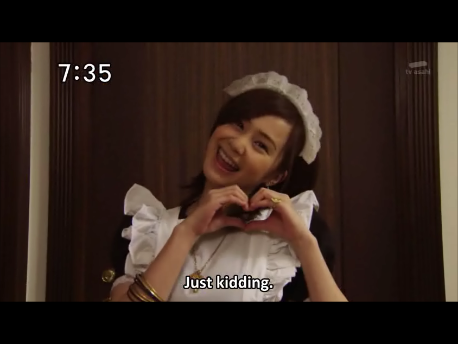 Luka's job is to be the guy's maid for the purpose of fanservice. Nah, I'm kidding. Actually, her real job was to basically baby sit the guy's daughter, Komaki. The man is revealed to be Kazugai Kouzou, who found a tree from a meteor impact site. The tree grows gold, which is the source of his wealth. It is guarded by a sophisticated security system. The Zangyach send Nanonanoda to the mansion in an attempt to steal the tree. Later, Luka is about to throw away a stuffed animal that Komaki keeps, much to Komaki's irritation. Nanonanoda gets past the security system and is about to retreave the tree before being noticed by Luka. Luka grabs Komaki and runs outside to safety. Nanonanoda follows them and rips off a line from Genta/Shinken Gold. :P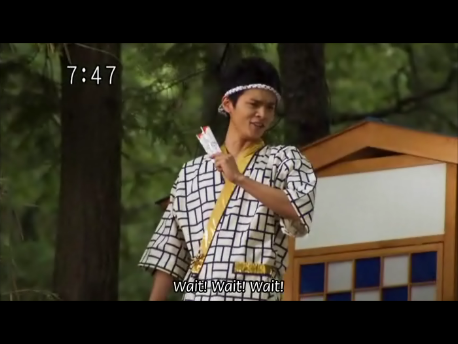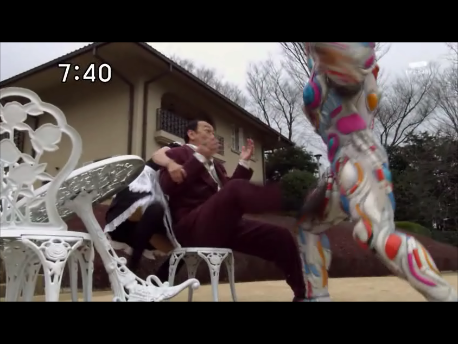 Luka then bribes Kouzou, offering to get rid of Nanonanodo in exchange for money. Initially Luka doesn't like Kouzou's offering, and tourchers Kouzou by using Nanonanodo's fingers to tickle Kouzou. Nanonanodo is the weakest MOTW so far on Gokaiger. He was totally pwned by an unmorphed Luka. However, having such a weak monster did make for some good comedy relief, such as the nut-shot given to him above and Luka using his finger's to tickle Kouzou.
Luka then morphs and transforms into Bouken Yellow, and makes good on her promise to get rid of Nanonanoda. Later, Komaki reveals that he wanted Nanonanoda to take the tree because she feels that their wealth had corrupted his father. She intended to buy the jewelry store in an attempt to spend all their money to go back when they were poor, because she feels her father was a better man back then. Luka then scolds her saying that money is what runs the world.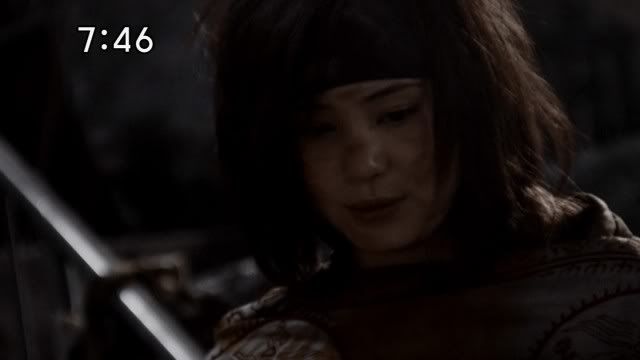 Later, we get a hint at Luka's past. She appears to be a poor girl who was giving bread to other poor people. Later, Joe questions why Luka wants money and Luka seems to answer that it is for her dream.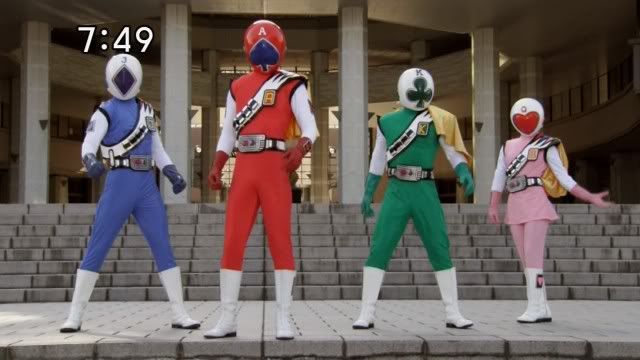 The next day, Nanonanoda and the Zangyach set Kouzou's mansion on fire, hoping to get past the security system to reach the tree. Luka goes to rescue Kouzou and Komaki from the burning house, while the others transform into JAKQ and stop Nanonanoda. Inside the house, Komaki asks Luka to save her most precious thing, and Kouzou offers Luka 100 million yen to save the tree. Luka tells Komaki she'll do it if her and her father get out of there. Luka retrieves Komaki's "most precious thing" which is her stuffed animal, that her father gave her for her birthday when they were poor. The 100 million yen check was also found inside Komaki's stuffed animal. Kouzou then recognizes his wrong doing and tells Komaki that he'll work hard for now on. Luka then joins the others and single handedly defeats Nanonanoda.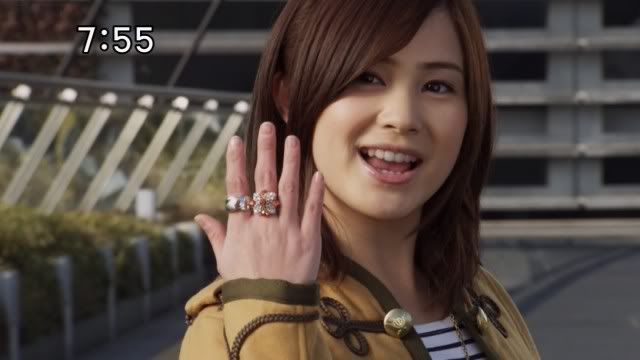 Later, the others are shocked that Luka would help them for free, but she reveals that she didn't as she took a couple rings, one of which was the original one she was going to buy. She laughs it off saying that it was what she was originally offered anyways.


My Thoughts
Previously, I said that episode 4 was the best Gokaiger episode so far. This one comes pretty close. It has some really funny scenes with Luka, the MOTW, and Kouzou, as well as a heartwarming moment between the girl and her father. We get some clues about Luka's past, seemingly being poor and also giving bread to other poor people. She also says that she needs money to accomplish her dream. I wonder, is she a Robbin Hood type character? Perhaps she needs the money to set something up for the poor. Perhaps thats why she became a pirate.