Like Power Rangers, Sentai has its share of seasons that have a nostalgic base. Here's a look at a few selected examples.
Gaoranger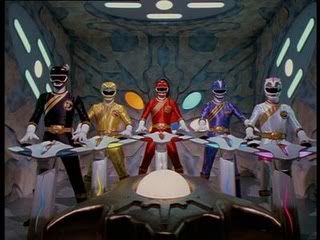 Gaoranger was the 25th anniversary season of Super Sentai. Like its Power Ranger counterpart, it didn't really intend to dig deep into nostalgia. However, it did have a few nostalgic elements. The heroes' color scheme was the same as Jetman's and GaoYellow's suit even had wings that were reminiscent of Jetman. The main nostalgic factor used was Gaoranger vs. Super Sentai, which involved a team-up with GingaBlue, MegaPink, Red Falcon, and the Big One with a quick pose of all the previous red rangers. Personally, I thought the team-up was ok. I liked the storyline with each of the past rangers helping the Gaorangers to overcome their fears and anxiety, but there are a few elements IMO that detract from the show. For one, there's no previous Sentai villain in the show, instead they fight previously defeated Orgs from Gaoranger. Also, more than half of it feels more like a clip show and we have a little too much of the orgs fighting stock footage. Then all the red senshi do is seemingly just pose and do their rollcall which was again, stock footage. It's an ok team-up, but among the anniversary team-ups I like Boukenger vs Super Sentai is better.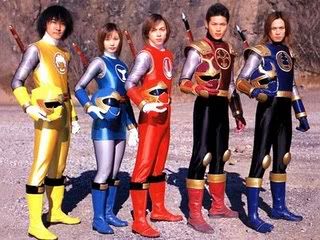 With Hurricanger, I don't know if I would call it a nostalgic base season. It combined elements of Liveman (student academies and starting out with three members with two more joining later) with Kakuranger (ninja theme). However, it's not really intended nostalgia like Boukenger and Gokaiger are. However, I do think Hurricanger combines these elements with its own unique elements and still manages to have an awesome season.
Abaranger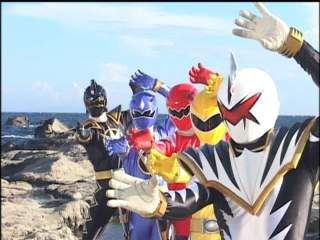 Abaranger bares a lot of nostalgia to Zyuranger. The most obvious is the dinosaur theme. The blue and red senshi both have the same type of dinosaur as a mecha as their Zyuranger counterparts did (T-Rex and Triceratops), and the lone female character had a Pteradactyle-like mecha like the lone Zyuranger female character. Storylines, however, are vastly different. Zyuranger handled the Dinosaur theme like a fairytail, while Abaranger put it more into a modern context, taking characters from present-day Japan. Another major difference is that Abaranger uses modern science with a twist, explaining that the asteroid that hit the Gulf of Mexico 65 million years ago separated the Earth into Earth and DinoEarth, with Dinosaurs still living on DinoEarth, which is essentially another dimension. I haven't seen a whole lot of Abaranger, but I do think it handles the dinosaur theme better than Zyuranger, which uses it like a fairytale.
Boukenger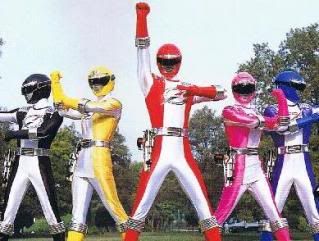 Like Gaoranger, Boukenger was an anniversary season. However, Boukenger was the first season to really dig deep into nostalgia. Many of the villains and villain mechas had designs based on past Sentai mechas. Also, many of the characters were based off of previous Sentai characters and there were some Jetman elements, such as the black senshi, Masumi, being the rebel of the group and having an inter-squad rivalry with the red senshi, Akashi. After the ending credits, Boukenger also had the 30 Sentai Encyclopedia, which paid tribute to all the previous Sentais as well as other various elements of Sentai. I think these elements were well handled and as mentioned above, I like its Anniversary team-up, Boukenger vs Super Sentai, better than Gao vs SS.
Gekiranger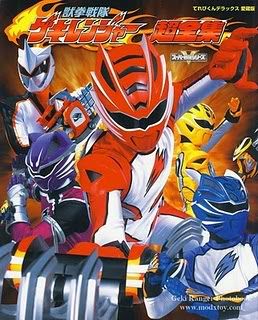 Gekiranger, like Hurricanger and Abaranger, was another somewhat nostalgic season but may have not intended to be nostalgic. It combined Dairanger's Chinese martial arts with some elements from Gaoranger. The Gaoranger elements include the beast theme, CGI mecha's, and even some of the mecha's being similar to Gaoranger, such as GekiElephant looking almost like GaoElephant, GekiGorilla being similar to GaoGorilla, GekiShark and GaoShark, GekiGazille and GaoDeer, GekiTiger and GaoTiger, GekiWolf and GaoWolf, and SaiDain being semilar to GekiRino. Also, Gou/GekiViolet, bares some similarities to Tsukumaro/GaoSilver. Both fulfill the "6th ranger" role, both are initially lone wolf characters, both at one time used an evil power to try to defeat an evil enemy, and both have wolf-like powers. Like Hurricanger and Abaranger, Gekiranger had much different storylines than the series they used to combine the elements. I can't comment a lot on how it handles the Chinese martial arts theme compared to Dairanger, but I do think Gekiranger handles some elements better than Gaoranger. For example, I like Gou more as a 6th ranger and lone wolf character than Tsukumaro, and the CGI mecha's are better handled in Gekiranger than they are in Gaoranger. However, I don't think the CGI mecha's really become good until Gokaiger.
Goseiger
Goseiger also had some nostalgic elements. The color of the suits and the helmit designs were similar to that of Zyuranger and the name Goseiger bears resemblence to Gosei Sentai Dairanger. The most glaring nostalgic resemblence is to Magiranger, with the Yuumajuu Beasts using magic powers and Super Goseiger mode being and looking similar to Magi Legend. However, I think the Magiranger elements weren't well handled at all. The Yuumajuu Beasts were terrible villains and the Super Goseiger mode just looked clunky with the big heads on the chest piece.
Gokaiger
Like Gaoranger and Boukenger, Gokaiger is also an anniversary season, being Sentai's 35th. In just 12 episodes, Gokaiger has dug deeper than Gaoranger and Boukenger combined. The ranger color schemes are the same as the original Sentai, Goranger. Also, there's the Legendary War, involving all past heroes, the Gokaigers transforming into past Sentai teams, and of course guest stars from past Sentais. Among the previous seasons to use nostalgia, Gokaiger has IMO handled it the best. The Gokaigers use the previous Sentai powers for better match-ups against the MOTW and the past hero guest stars are usually there mostly to develop the Gokaiger characters and thus don't steal the spotlight.