Warning. Major Spoilers Ahead
Episode 27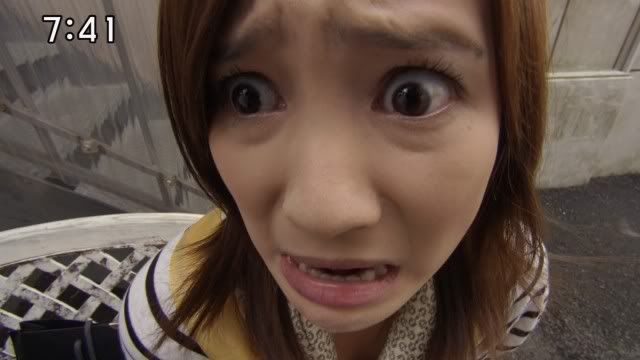 Episode 27 starts out with Don and Luka shopping. However, they have to drop all their bags (actually Luka's bags) to stop a Zangyack attack. However, the MOTW Regaru performs performs a body switch on Don and Luka. The two of them now have to deal with everyday life in the other's body. Luka is having fun with the situation, including changing Doc's hair and getting phone numbers of a couple girls while she's in his body. Doc on the other hand, struggles. He runs off from a couple of guys who wanted Luka for a job to spot fake jewery. However, Don is saved by Luka (in Don's body). Meanwhile, the others are able to figure out the Zangyach plan. After Gai remembers that the people who were attacked by Regaru and the Gormin are foreign leaders, Ahim recognizes that Regaru intended to use his body switching abilities to switch bodies with the foreign leaders and take over the earth. Later, Luka and Don are able to join the others. They defeat Regaru, while Don and Luka are back to their normal bodies.
The switching bodies plot is one of the most unoriginal and overused plots ever. However, there are some things I do like about this episode. Planning to switch bodies with world leaders to conquer earth was actually quite a clever plan. It shows that the Zangyach at least are thinking instead of just always sending down the MOTW. Now if only their henchmen can get some more use. Along with episodes 23 and 29, it also showed Ahim to be quite the thinker. I also liked Mao Ichimichi's acting in this episode. Her facial expressions and portrayal of Don in this episode was hilarious, and I felt she showed some good acting ability. Kazuki Shimizu's portrayal of Luka was alright, but I think he's better as his own character. Despite the lack of originality, I felt it was still an enjoyable watch. Overall I give it 8/10.
Episode 28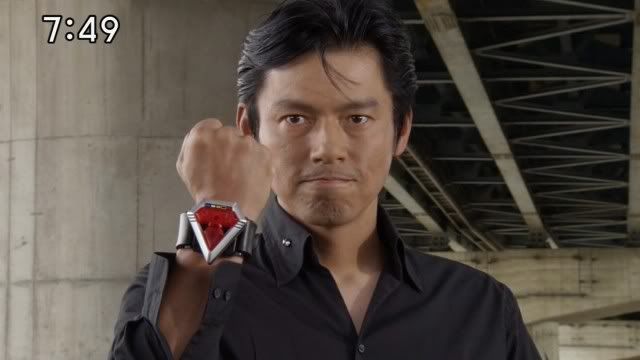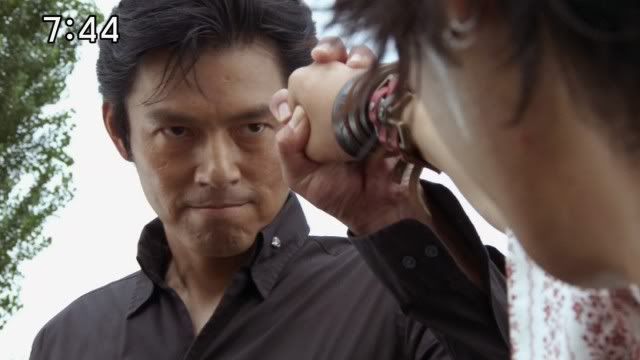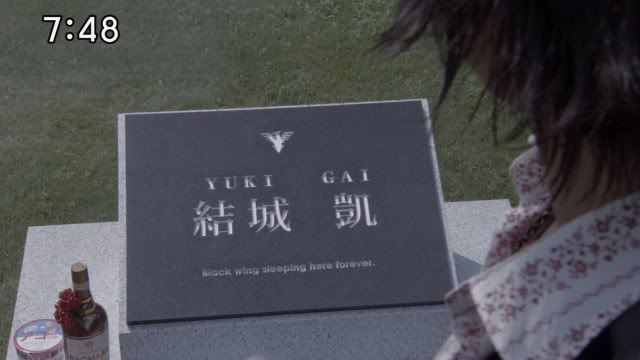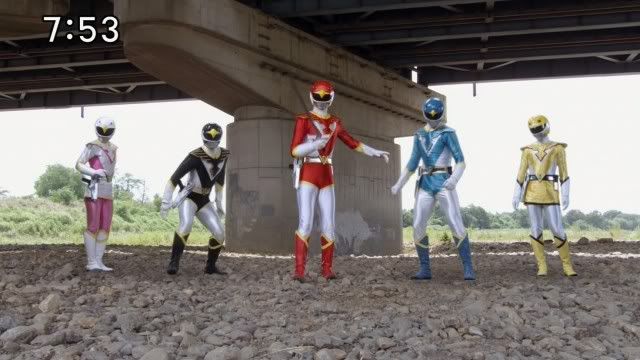 After a mecha battle with the Sugormin the Gokaigers run into the bounty hunter Kiaiou. Marvelous instantly recognizes him from a past fight and instantly shows his fear. The Gokaigers transform into Bioman and Maskman but are unable to defeat Kiaidou. Kiaidou lets the Gokaigers retreat, telling them they're too weak for him to kill them. However, Kiaidou let them go just to raise their bounties. Sensing trouble, the ghost of Gai Yuuki/Black Condor comes to the Gokaigers and steals Marvelous' and Joe's Mobirates. Gai still has his flirty attitude with women, and flirts with Luka. Gai Ikari tells the other Gokaigers that there are some mysteries surrounding Gai Yuuki. Later on that night, Gai Yuuki confronts Marvelous about his fear and tells him that right now he's not fit to obtain the Jetman grand power. Marvelous follows Gai Yuuki and finds his grave. The next day, the Gokaigers stumble upon Gai Yuuki fighting Kiaidou. After seeing Gai Yuuki fighting to protect the other Jetmen, Marvelous overcomes his fear. Gai then gives Marvelous and Joe their Mobirates back and the Jetman grand power. The Gokaigers use the Jetman grand power to defeat Kiaidou, who's not even revived to grow giant. Afterwards, Gai Yuuki sits on the bench where he died. The episode ends the same way it begun, with Gai Yuuki playing cards with a goddess in a jazz club.
This episoed was excellent and very well written. In the fight with Kiaidou, Gai Yuuki showed that he's still quite the badass. It is a bummer that Gai Yuuki is "officially dead" but it was nice to see some of the things left on his grave from the other Jetmen members, including a cup of noodles from Ako. This was one of the better episodes in the series. Overall I give it 9/10.
Episode 29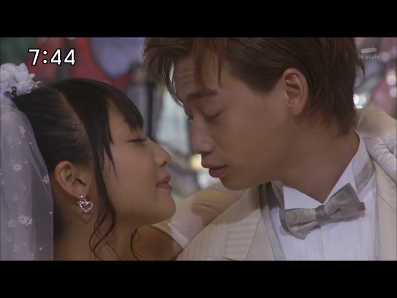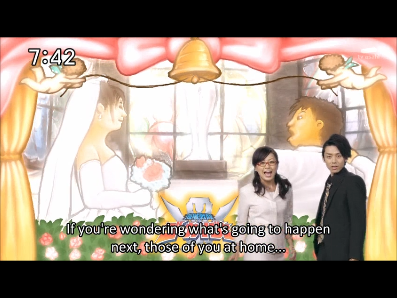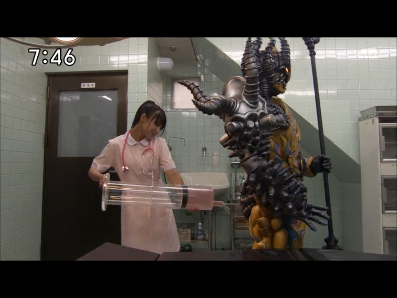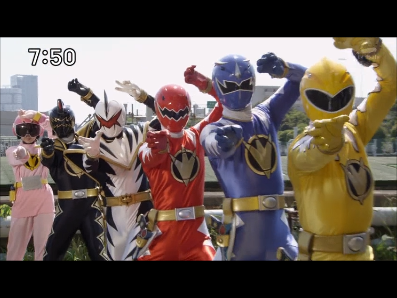 Episode 29 begins with Walz Gils having problems with a cold. Insarn informs him that the cure is joy from women on earth. Barizorg's suggestion is Daiyal, whom can suck the happiness out of women with his staff. After leaving a restaurant, Gai is questioning Marvelous as to why he let Ahim join, saying that she doesn't seem like much of a pirate. Marvelous responds to Gai by saying "you don't know jack about Ahim." They catch Daiyal attacking a married woman at a wedding and try to stop him. However, it's revealed that he can shrink or grow giant on his own. After growing large, he shrinks and manages to get inside GouZyuJin, attacking Gai and taking over the mecha to attack GokaiOh. After Gai recovers, he shrinks again and attacks the others inside GokaiOh. Marvelous, Joe, and Luka shoot at him against Don's warnings, and do some damage to GokaiOh. Later, Daiyal shrinks and sneaks into Luka's suit. Ahim uses bug spray to get him out, and Daiyal retreats. As punishment for their recklessness, Don has Marvelous, Joe, and Luka help him repair the ship. Meanwhile, Ahim tells Gai to marry him immediately, much to Gai's shock. However, this was Ahim's plan to lure Daiyal out. It succeeds but he manages to escape the first time. However, Ahim goes on a cosplay rampage, disguising as a school girl, a nurse, and a police woman all to outsmart Daiyal. She crushes his staff, and when the others are done, Gai tells Marvelous that he now sees what Marvelous saw in Ahim. Yukito/Abare Blue and Emiri (who's now his wife) catch up to them and tell them that Ahim's rampage makes them worthy of the Abaranger grand power. The secret to their power is that GokaiOh and GouZyuJin can combine. Emiri gives Ahim an Abarepink ranger key. When the Gokaigers transform into Abarangers, Ahim's Abarepink outfit looks more like a pajama suit. Embarrassed, Ahim stays back and doesn't join the fight. After Daiyal grows large, the Gokaigers use the Abaranger keys to combine GokaiOh with GouZyuJin to form GoZyu-GokaiOh, and defeat Diayal for good. Later on, Gai is sharing Ahim's cosplay disguise story with the others and shows them pictures of Ahim in the various cosplay, embarrasing Ahim in the process.
This episode had a mixed reaction from the fandom, and seemed to divide the message boards (rangerboard users mostly seemed to love the episode while Henshin Justice users seemed mix with some outright hating the episode). It is somewhat understandable to see why it got a mixed reaction. This episode didn't do as much in terms of paying tribute to Abaranger unlike other tribute episodes. The main disappoinments were not at least mentioning the Dino Curry house and the lack of interaction between Yukito and the Gokaiger cast. However, the episode itself did have some tributes to Abaranger such as breaking the fourth wall, Abarepink, and the commercial break. Overall, I felt the episode paid more of a tribute to the spirit of Abaranger with its comedy and utter randomness, then to the series itself. With that said, I felt it was still quite an enjoyable and entertaining episode. I think it's one of the funnier episodes in Gokaiger, funnier than the body switcher episode and even rivaling the Carranger tribute episode. I particularly found the Abarepink joke and Ahim's embarrasment funny. Sure, a lot of it was Ahim fanservice, but I think the episode showed Ahim in a different light. It showed that she's more than capable of outsmarting an enemy on her own. It was kinda disappointing that she didn't fight after transforming into Abarepink, but everything else she did before that more than made up for it. Overall, I give this episode 8.5/10.