Warning: Spoilers Ahead
Episode 39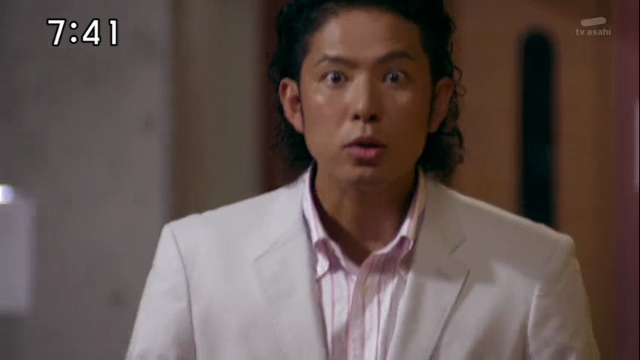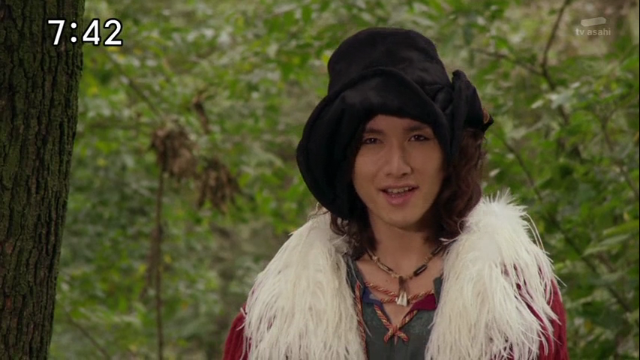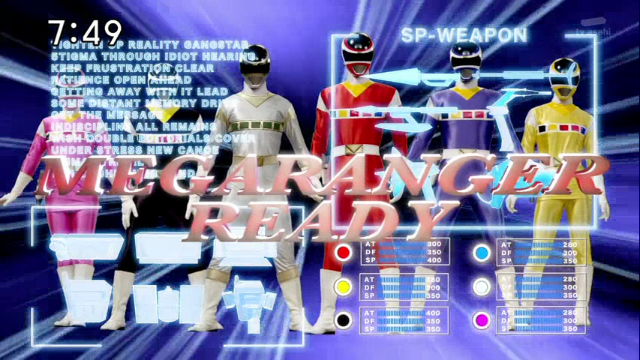 In episode 39 the Gokaigers go to Moroboshi High School in search of the Megaranger grand power. There, they meet former Moroboshi High student Kenta Date/Mega Red, who is now teaching at his alma mater. He recognizes that the Gokaigers don't really care about school, so in order for him to give up his grand power he tells them that they have to go to school for the day. The Gokaigers split up and wonder around the school, doing their own activities. This includes Marvelous playing basketball with some students (and ripping-off a Michael Jordan dunk :P), Don and Luka chatting with a pair of students who are studying, and Joe and Ahim watching a girl trying to impress a guy she likes. Meanwhile, Basco appears and threatens to blow up the school of Kenta doesn't give him the Megaranger grand power. Marvelous convinces him not to give it up to Basco, and tells Kenta that he recognizes why Kenta wanted the Gokaigers to go to school; to see that it can be great because everyone has dreams. Gai protects Kenta from Basco while the other Gokaigers locate the bombs planted around the school and disable them. They then proceed to fight Basco and Sally to a draw, and defeat Basco's giant-sized henchmen. At the end of the episode, Kenta gives the Gokaigers the Megaranger ultimate power, telling them to consider it their diplomas.
Overall, I think this was an enjoyable episode. It sticked with Gokaiger's formula, where they have to earn the grand powers. Most of the Gokaigers didn't care for school (except for Gai and Ahim, Don seemed neutral), which was consistent with their characters. Basco was menacing in his appearance as usual, and crossed another moral event horizon when he threatened to blow up the school. The episode did well as a tribute to Megaranger as well, and continued its story by having Kenta return to his old high school to teach. Overall it's a good episode, so I give it a rating of 8/10.
Episode 40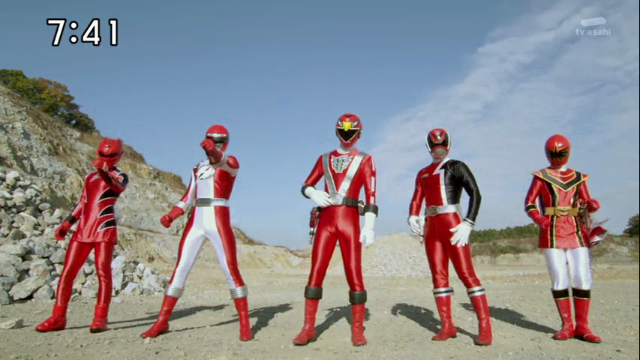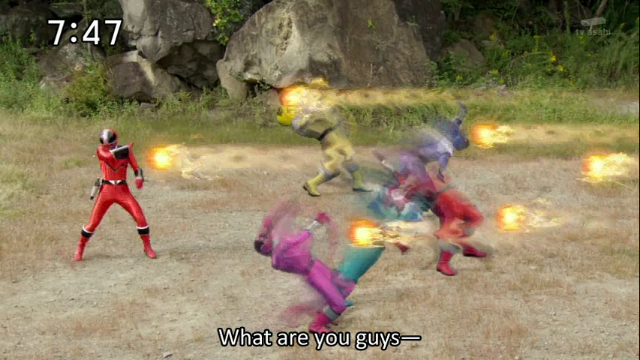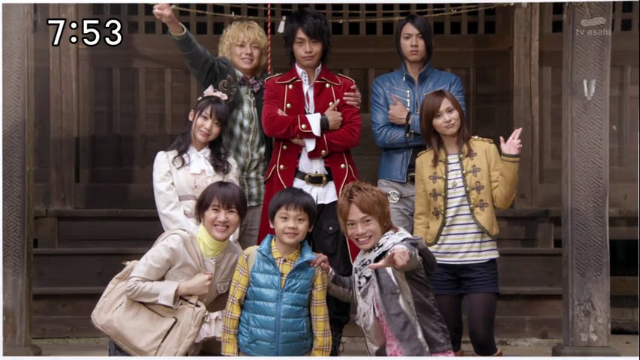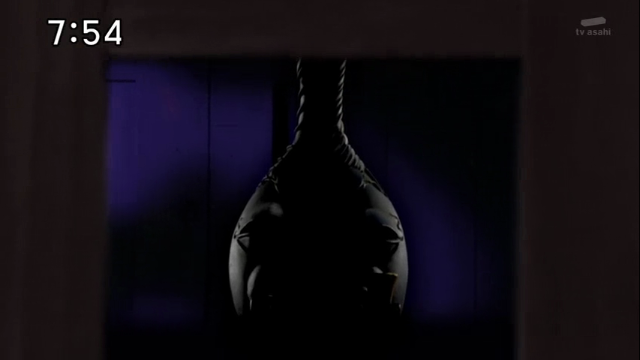 In this episode, Domon/Time Yellow sends a message to the Gokaigers to travel back in time to October 2nd, 2010. Their mission is to protect Hagakure Temple. Once there, they spot the Nanashi from Shinkenger and confuse them for wanting to destroy the temple. The Nanashi run off. Gai stays with a boy at the temple, while the others chase the Nanashi. They then discover the Goseigers and Shinkengers, and run into Shitari, which brings up the Gokaiger's place in Goseiger vs Shinkenger. However, the real culprit who's after Hagakure Temple is Short Zan-KT0, who had been ordered by Metal Alice. Gai protects the boy and the temple from Short Zan-KT0, until the other Gokaigers arrive. They then transform into Timerangers, and avoid Short Zan-KT0's bullets Matrix-style, similar to episode 1 of Timeranger. After defeating him once, Short Zan-KTO grows large. Gai defeats Short Zan-KT0 with GoZyuJin alone. Later, the Gokaigers take a picture with the boy and his mom (who happens to be Honami) to prove that they protected the temple. After the Gokaigers return to their own time, they recognize that the temple is safe but they forgot about the grand power promised to them by Domon. However, a scene shows Ninjaman's jar inside the temple. When Domon looks at the picture, he is at first upset that the Gokaigers interacted with the people of the past. However, he breaks down into tears when he recognizes Honami and the kid, which happens to be his.
Like the Abaranger episode, this episode wasn't much of a Timeranger tribute. However, continuing the Domon-Honami story was enough of a tribute for me. So far, the Domon-Honami relationship is my favorite in Sentai. I thought they really made a cute couple in Timeranger and I really liked their interaction. It was really surprising to see Honami get a role in this episode, and it was a nice wink to Timeranger that her son was named Mirai (which means future). The ending is really a tear-jerker and makes the episode memorable. I give it a 9/10 rating. For me the ending alone was worth 8 of the 9 points :D
Episode 41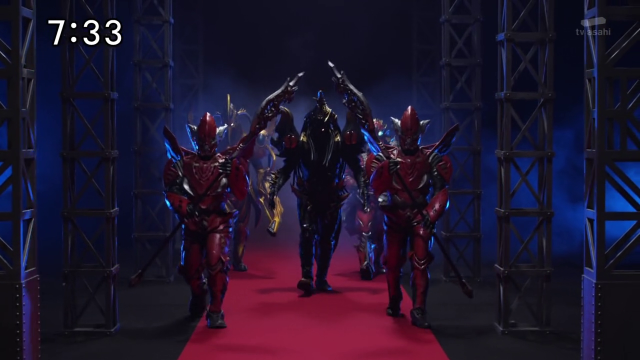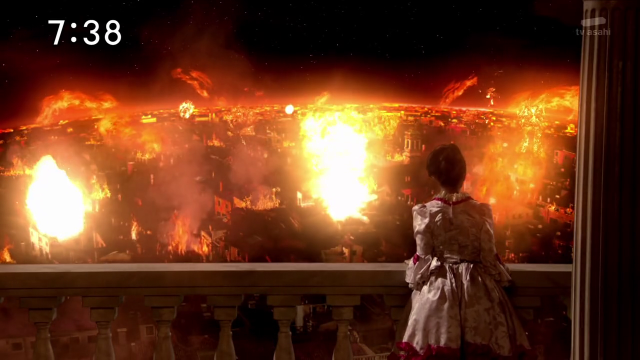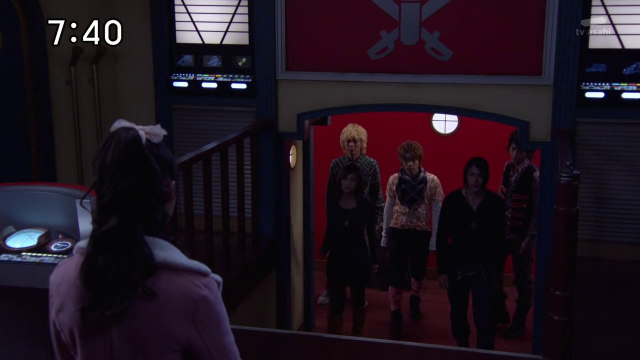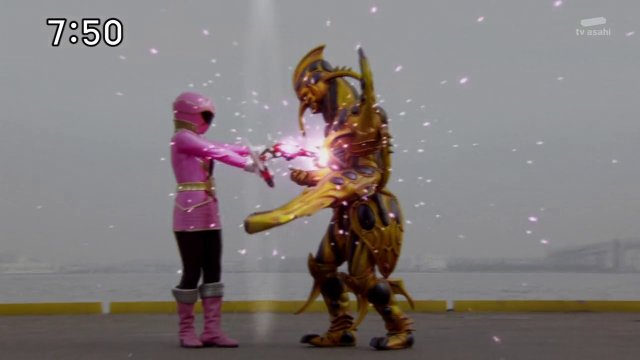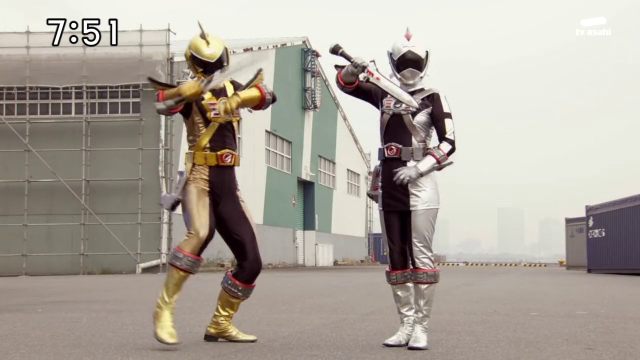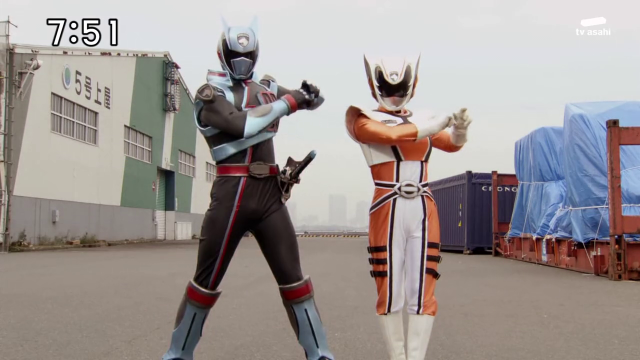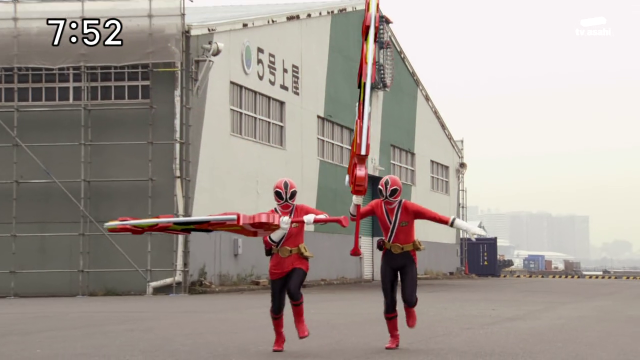 Episode 41 was Ahim's backstory episode. It's also the debut of Actdos Gils, who's first order is arresting Damaras for failing to protect his son. On earth, Ahim, Joe, and Gai are shopping when they notice a full scale Zangyack attack. They're met by Zatsurig, one of Actdos Gils' personal body guards who also happened to destroy Ahim's home planet. Ahim immediately charges him in rage, and neither Joe nor Gai are able to hold her back. However, Zatsurig is too powerful for all three. Later, there's a flashback of Zatsurig destroying Ahim's home planet and killing Ahim's parents right in front of her while she's fleeing. She tries to sneak out of Gokai Galleon alone when she's stopped by the others. Then, we get a flashback of Ahim asking Marvelous, Joe, Luka, and Don if she can join their crew. They don't take her seriously, but Ahim says she wants to show the other Famille planet refugees that she's willing to stand up against the Zangyack. Back to the present, the other Gokaigers convince Ahim to let them go with her to defeat Zatsurig. Their first attack is easily repelled by Zatsurig, but they notice that Zatsurig uses the eye on his chest as his source of power. They try to buy time for Ahim to get an openning to destroy the eye on Zatsurig's chest. During this fight, more flashbacks are shown of Ahim struggling to train how to be a pirate and doing daily chores on Gokai Galleon, but she's also shown being the heart of the team that keeps them glued together. Eventually, the Gokaigers try a second plan, in which they fire the Final Wave at Zatsurig which they know he'll fire back at them, but Gai uses his Gold Mode sheild to protect himself from it. This gives Ahim her opportunity. She knocks out the eye first with a stab from her Gokai Sabre, and then fires the Final Wave point blank in Zatsurig's eye. She then pairs up with each of her Gokaiger teammates separately (with Gai as the Go-On Wings, Don as the Goraijiers, Luka as the Gosei girls, Joe as Deka Swan and DekaMaster, and Marvelous as co-Shinken Reds) and in reverse order from which each teammate joined the crew. She then gets to be the one who fires the Gokai Galleon Buster to defeat Zatsurig.
This was one episode that I had waited all season long, and fortunately it was well worth the wait. It was by far, Ahim's best focus episode and more than makes up for the lack of focus episodes she's received thus far, and makes her development more than satisfying. It had the dark moments with her planet being destroyed and her parents being killed infront of her. There were plenty of heartwarming moments, especially the flashback to when she first met the Gokaigers. I really loved her reason for wanting to be a Gokaiger, for the pride of the people from her home planet. It was also great to see the contrast of her being a nobody in terms of fighting ability to working hard and now being comparable to the other Gokaigers in terms of her ability. The fight was also really satisfying as well. Ahim's actress, Yui Koike did a really good job in this episode as well, and I think Gokaiger has one of the best set of actors of the 21st Century sentais. Besides Ahim, it was also good to see Actdos Giles, who made a chilling debut in his first episode. Overall, I give it 9.5/10 for an excellent backstory for Ahim.