Episode 33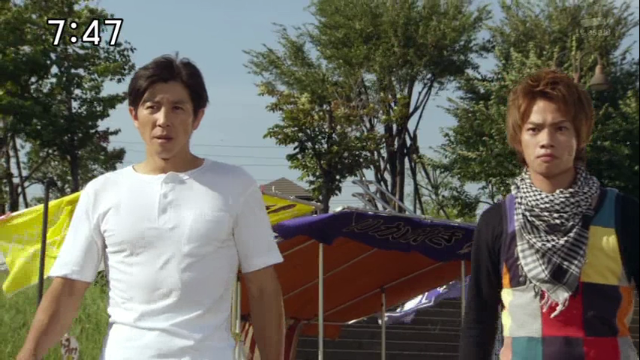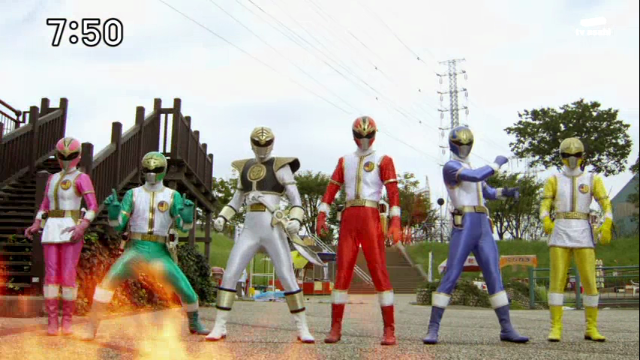 In this episode, Ryo/Ryu Ranger from Dairanger is the guest star. Here, Gai loses his ability to transform after the MOTW eats is Gokai Cellular. Gai is unable to come to terms with it at first. However, with the help of Ryo, he realizes that what he wanted to do (and the most important thing) wasn't to be able to transform, but to be a hero to protect people. He realizes he didn't need to transform to do this. When the Zangyack show up, him and Ryo fight the Gormin and the MOTW until the Gokaigers show up.
This episode had a number of plot lines that have been used to death in Sentai. One of the heroes losing his ability to transform, the MOTW trying to eat all of the world's food supply, exc. However, the good execution and character development for Gai is what makes this a good episode. I think Gai is at his best when the focus is only on him. In these types of episodes, Gai gets some really good character development when he's learning that there's more to being a hero just because it's his lifelong dream. I think it was a really good character development episode for Gai, and a good tribute to Dairanger in the process. Overall I give the episode 8.5/10.
Episode 34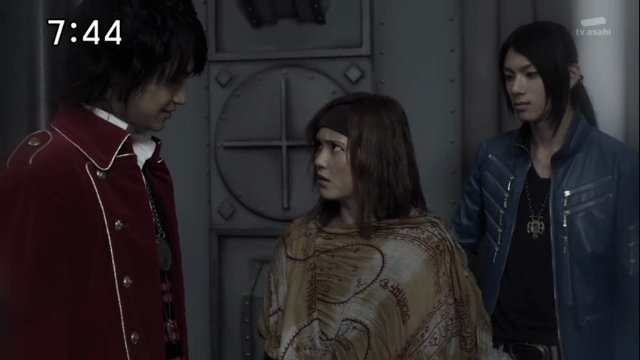 In episode 34, the final pieces of Luka's backstory are revealed. One of her friends returns from her home planet (which was destroyed). At first, it's the MOTW who has captured Luka's friend, Cain, and disguises himself as Cain. He uses this to his advantage to kidnap Luka. The MOTW then disguises himself as Luka, tries to sneak onto Gokai Galleon, and blow it up. However, he was fooled by the Gokaigers who recognized his strange impersonation of Luka from the beginning. Meanwhile, Cain tries to convince Luka to come back with him, that he's collected a huge amount of money to accomplish her dream. Luka's dream is to buy a planet that's safe for an orphanage, out of the Zangyack's reach. In a flashback it's revealed that she was stealing fron the Zangyack to try to acheive this goal. That's when Marvelous and Joe appear, and recruit her to join them on finding the greatest treasure in the universe. When she realizes she could get her hands on it, she figured she could buy the whole universe.
Luka's background story was a bit predictable since it was first revealed in episode 6. However, it is still a nice little background story to give her some character development. Her acting was good as usual (I think Luka, Joe, and Gai are the best actors on Gokaiger). It was also consistent with her character that she wanted to buy the whole universe, seeing how greedy Luka has been since the beginning of the series. Walz Gils also had a competent plan to take out the Gokaigers, if the MOTW did a better acting job of portraying Luka. However, there were a couple flaws with this episode. To start out, I found the guest actor who played Cain to be a little underwhelming. He wasn't horrid, but I found no real sense of emotion on his line delivery. Also, I kinda found it unconvincing how easily Luka trusted Marvelous on finding the "Greatest Treasure." For the majority of the flashback, she was a hardcore skeptic and then when Marvelous said "just trust me," she inexplicably changed her mind. I would of liked to see something more, like Marvelous give a couple more convincing lines than just "trust me." Overall, I don't think it's a bad episode and I do like Luka's backstory as a whole. It's just that this episode leaves some things to be desired. Overall I give it 7/10.