With Hurricanger currently being one of my top 3 favorite Sentai's, I was really looking forward to this two-parter. It's pretty safe to say that it didn't let me down either.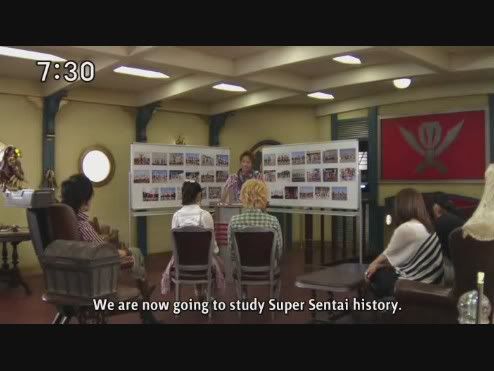 Episode 25 begins with Gai giving his Super Sentai lesson to the other Gokaigers. Don and Ahim seem into it, but Marvelous, Joe, and Luka lose interest quickly and leave Gokai Galleon to eat some ice cream. Meanwhile, Satarakura Jr. and Sandaaru Jr., the sons of former Jakanja henchmen, are sent to wreck havoc on Earth. Their plan is to turn humans into nuts to use to fuel a missile. I do have to say that this two-parter made me realize that Satarakura Sr. was a solid villain in Hurricanger. After watching Satarakura Jr. here on Gokaiger, I remembered how funny Satarakura was on Hurricanger.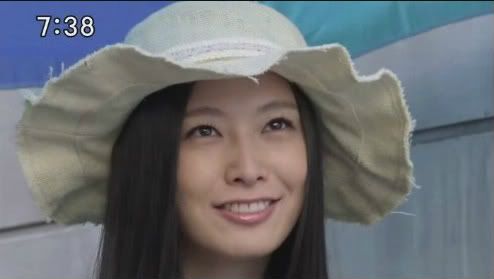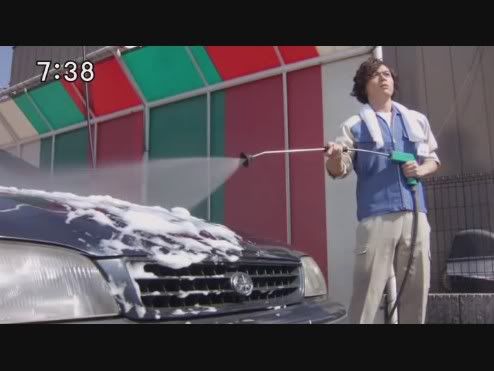 Here we get some really good nods at continuity, starting with the guy at the top who was playing Nanami's character song,
Shinobi Koi
. Furthermore, Nanami has apparently moved on from singing to become an actress, and the script she was reading had the same name as the Hurricanger's ending theme song,
Ima, Kaze no Naka de.
Kouta has continued his work at a nursery while Yousuke is working at a car wash. They all leave their day jobs when they sense the presence of space ninjas, which I found odd. None of them had ESPER-like powers before so I found it pretty odd how they were able to just sense them.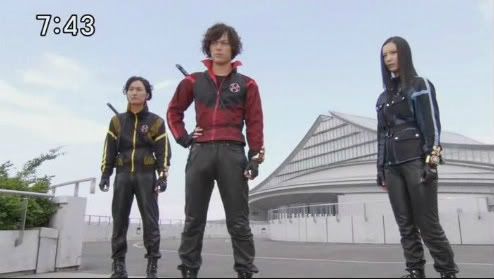 Marvelous, Joe, and Luka are attacked by Satarakura Jr. and Sandaaru Jr. Marvelous, Joe, and Luka are outmatched by Satarakura Jr.'s and Sandaaru Jr.'s ninja powers. Gai, Don, and Ahim arrive to help but Satarakura Jr. and Sandaaru Jr. retreat with the bag of nuts that they plan on using for the missile. The three hurricangers watch the fight from a distance. The six Gokaigers however, are able to locate the space ninjas. They destroy the missile and gather the nuts. Wanting payback, Marvelous, Joe, and Luka fight harder. However, the space ninja's switch-a-roo trick switches them with Don and Ahim, who get the full force of their own attacks. Then Satarakura Jr. tries to trap them all in his pocket dimension, but only manages to capture Marvelous, Joe, and Luka who pushed the others away from the trap.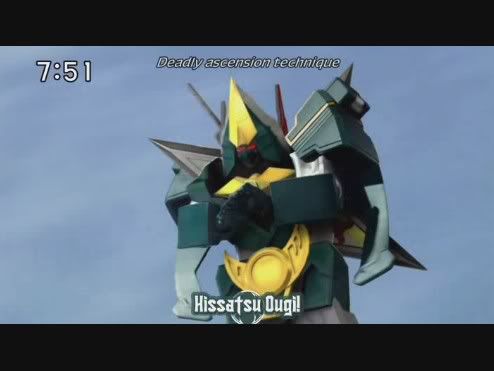 Satarakura Jr. leaves to deal with Marvelous, Joe, and Luka in the pocket dimension. Meanwhile, the others have to face a group of Magerappas and a giant size Sandaaru Jr. Gai, along with the help of Fuuraimaru who suddenly appears, is able to defeat Sandaaru Jr. Don and Ahim, however, have an endless task of defeating a load of Magerrapas, but receive some unexpected help from the three Hurricangers.
Episode 25 ends with the Hurricangers exchanging information with Gai, Don, and Ahim. The Hurricangers tell them that their ultimate power is needed to get through that dimension and to free the others. Don asks them for their ultimate power, but the Hurricangers refuse, saying they can't trust pirates. Furthermore, the three Hurricangers demand their ranger keys back. Gai then confronts them, saying that it was Marvelous who was able to bring all the keys back to Earth and that the Hurricangers demanding their ranger keys back "isn't right." I personally, liked this exchange. I was glad to see Gai stick up for his team and wanting to refuse the Hurricangers initially, especially because back in the Gingaman episode he nearly gave his Gokai changer to Hyuuga rather easily. Gai's dialog fell short a little bit, not explaining clearly what isn't right about the Hurricangers demanding their keys back, but that's only a minor complaint.
Episode 26 begins where 25 left off. Don and Ahim tell Gai to back down that now's not the time for them to be fighting when their friends are in danger. This part was slightly disappointing because I wanted the Hurricangers to earn the Gokaiger's respect and show them something else why they should get their ranger keys back. However, I do love the dialog exchange when Yousuke ask them if they're sure about it, because they might not get them back. Ahim's response was: "that's not a problem, if we have to we'll take them back by force." Proving all the more how under-appreciated Ahim is by the fandom.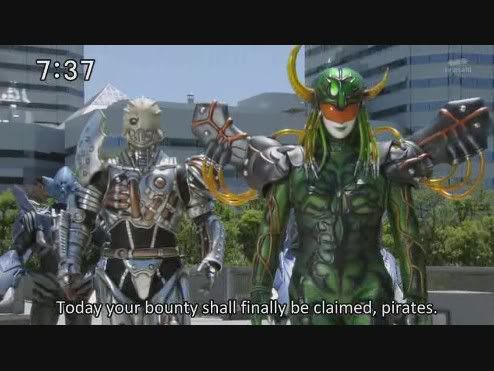 Trapped in the pocket dimension, Marvelous, Joe, and Luka are forced to take Satarakura Jr.'s quiz game, which is full of trick questions. The first one involved a picture that appeared to be Akaranger, but was Satarakura Jr. disguised as Akaranger. After this, they pretty much gave up trying to answer Satarakura Jr.'s quiz. The three Hurricangers go to rescue Marvelous, Joe, Luka, and the people turned into nuts. Meanwhile, Wazuru Gills sends Insarn and Barizorg to keep Ahim, Don, and Gai busy and we FINALLY get some action from the main villains.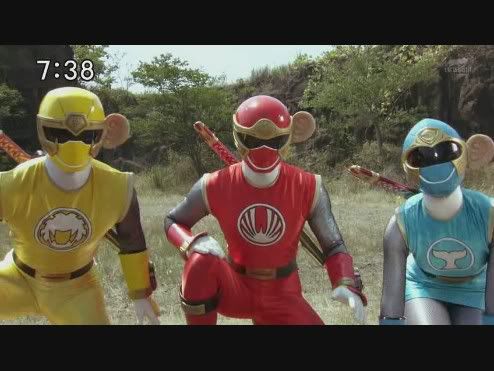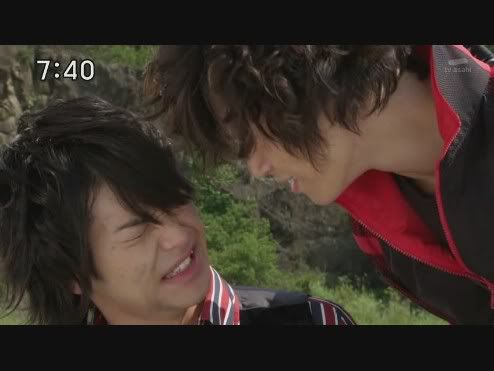 Inside the pocket dimension, the Hurricangers overhear Marvelous, Joe, and Luka's answers to Satarakura Jr.'s quizzes and are shocked to see that they're not even trying to answer. So they try to intervene, but to the Hurricanger's surprise, the people turned to nuts are set to explode. Realizing this and after Marvelous further explains that no matter what they give as an answer, Satarakura Jr. will just make up another answer, the Hurricangers then decide that the Gokaigers aren't so bad after all. To set everyone free, the Hurricangers give Satarakura their own quiz. The last question, the Hurricangers manage to make Satarakura say "ping pong" which sets them and the Gokaigers free, leaving Marvelous, Joe, and Luka speechless. The Hurricangers quickly use their ninja speed to get the people trapped as nuts. The Hurricangers and the Gokaigers then proceed to escape the pocket dimension.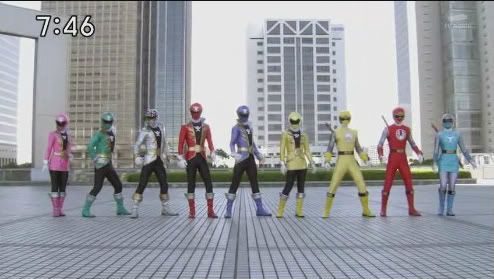 Once outside the pocket dimension, all nine of the Gokaigers and Hurricangers join forces. This is followed by a totally awesome fight with the Gokaigers and Hurricangers kicking the asses of Satarakura Jr., Barizorg, Insarn, the Magerappas, and the Gormin. The only real disappointment I had from this fight was a lack of hesitation between Joe and Barizorg considering their history, which could have added to Joe's character development. Other than that, the fight was great. It ends with the Hurricangers and the Gokaigers doing a combine version of the "final wave" and a cheesy joke from Satarakura Jr. as he breaks the fourth wall.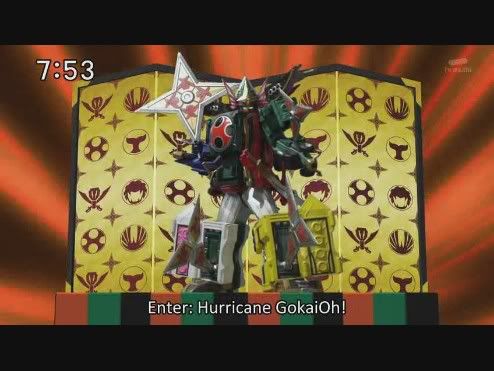 As usual, Satarakura Jr. is grown giant size. The Gokaigers summon GokaiOh while Gai summons GoJyuJin, and holy crap the Hurricangers are the size of buildings????? Anyways, Satarakura Jr. proves to be a bit too much for them, and with GoJyuJin already damaged from the last battle, Marvelous orders Gai to fall back. The Hurricangers then grant the Gokaigers their ultimate power. Their ultimate power allows Fuuraimaru to combine with GokaiOh to form HurricaneGokaiOh. The Shurikens, particularly the ones sticking out of the legs look a little silly but I love the chest piece and the helmet. Fuuraimaru detatches from GokaiOh and uses his own finishing move on Satarakura Jr.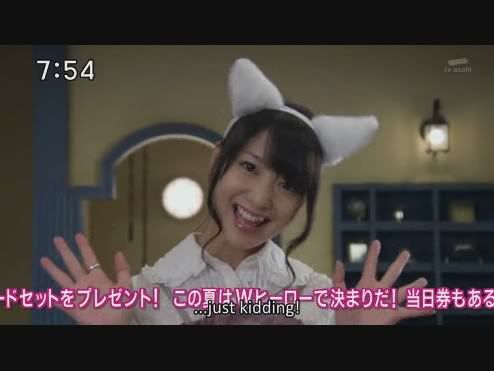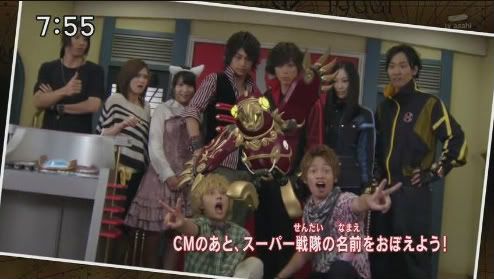 The episode ends with the Gokaigers and the Hurricangers having a little bit of a celebration on board GokaiOh. Luka and Joe pull off the hearing trick that the Hurricangers used earlier in the episode. Then we get a cute and funny moment from Ahim, wearing her own set of ears and everyone calls her a cheater. After Marvelous tells Yousuke that he likes Earth, everyone including Navi take a big picture.
This two-parter was awesome. Like I said at the top, I'm a big Hurricanger fan and all loved all the continuity nods. We got some great action. While this two-parter wasn't perfect I think it still beats some Sentai team-ups. Still, as far as Gokaiger episodes go it's not as good as the Shinkenger tribute episodes of 11 and 12. That two-parter had Joe's backstory which I still think hasn't been beaten yet. This comes in as a close second however, and I give this two parter 9/10.