During the mid-late 1990's, Haim Saban attempted to capitalize on the success of Mighty Morphin Power Rangers by making other Tokusatsu-like tv shows.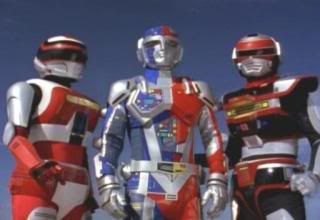 The first was VR Troopers. This show was originally named "Cybertron" with Jason David Frank (Tommy in MMPR) in it, and originally was intended to be a one man show. A pilot episode was filmed with Jason David Frank. However, because of his immense popularity in Power Rangers, Frank was pulled off the show and put back on the set of MMPR. Furthermore, the Cybertron theme song was remixed and became the Green Ranger theme song in MMPR (Go Green Ranger Go). The show would also be renamed VR Troopers because of some copyright issues with the show Transformers. VR Troopers was transformed into a three man team and used footage from TOEI's Metal Hero Series. It spliced footage from three different Meteal Hero seasons, Super Machine Man Metalder, Dimensional Warrior Spielban, and Space Sheriff Shaider. To capitalize on the success of MMPR, Saban made it a point to try to portray VR Troopers as Power Rangers-like, putting VR Trooper trailors in MMPR VHS cassette tapes. Contrary to what some people believe, VR Troopers was not a failure, it had respectable ratings. Some elements of VR Troopers were actually better than MMPR, particularly the last half of S2 and S3 of MMPR. VR Troopers had a much darker plot than MMPR, (The villains were less comedy driven, particularly Grimlord, Ryan Steele's father was missing, exc), and VR Troopers had a little bit better action than MMPR. However, VR Troopers did have its own plot issues. Too much attention was focused on Ryan Steele (partly because of the story's background and the fact that Saban tried adapting 2 Metal Hero series at once), as well as how poorly the show edited the Japanese stock footage. VR Troopers could not surpass MMPR in popularity, not even in S3 when MMPR had a dip in its ratings. The show ended after two seasons (from 1994 to 1996) when all of its stock footage ran out. Personally, I think this is a show that if Frank had stayed on the set and kept the show as a "one hero" show instead of making it a team show with the majority of the focus on one guy, it could have been successful and surpass Power Rangers. Tommy fans may have switched to Cybertron, and Power Rangers may not have went on to be the successful franchise it is now. But that is a whole lot of what if's.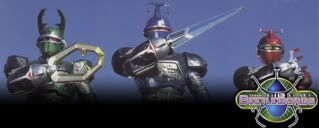 Also adapted from the Metal Hero Series (Juukou-B Fighter and B-Fighter Kabuto) was Big Bad Beetleborgs and Beetleborg Metallix. Also like VR Troopers, lasted two years and did respectable among the ratings. In fact Big Bad Beetleborgs breifly surpassed Power Rangers in the ratings, albiet in the middle of a horrible PR season (Power Rangers Turbo). The show was more kid oriented than either Power Rangers and VR Troopers, with kids playing as heroes and comic book strips used in the show. The show was also a little better organized than VR Troopers because of how it used the stock footage from its Japanese counterparts. However, like VR Troopers it couldn't completely live up to the popularity that Power Rangers once was, and ended when all of its stock footage ran out.
While VR Troopers and MMPR S3 were airing (1995-97), Masked Rider debuted. Masked Rider was based off another TOEI-created Tokusatsu series, Kamen Rider. Masked Rider used footage from Kamen Rider Black RX, which was one of the most popular Kamen Rider seasons. Like VR Troopers, Saban tried to pitch Masked Rider to Power Ranger fans by introducing it at the beginning of MMPR S3 in "A Friend in Need." The series lasted two seasons, but they were rather short seasons with only 20 episodes a piece. This series, however, failed due to competing with the more popular VR Troopers and MMPR, and also because it had a poorly executed plot and even worst editing of the Japanese footage than VR Troopers had.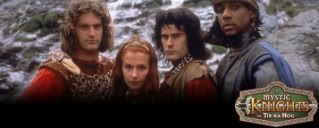 Among all attempted Tokusatsu-like series that were made by Saban, The Mystic Knights of Tir Na Nog (1998-99) was the only one that was an attempted original not to use Japanese stock footage. This series contrasted differently from other Saban series in that it had a historical setting instead of a present-day setting. It was based loosely on Irish Mythology. However, this show lasted only one season and is perhaps the worst out of all of Saban's Tokusatsu-like series.