Although it's quite rare in Super Sentai (I can only think of Doggie Kruger, Swan-San, and Mari Gold in Dekaranger), aliens playing as rangers are quite common in Power Rangers. Here's a list of all aliens that have played as rangers in Power Rangers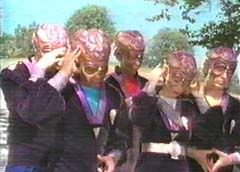 The first were the Alien Rangers of Aquitar, who came to earth when it had been turned back in time by Master Vile in MMPR S3. The Power Rangers were turned into kids who were way too young to fight, so Zordon and Alpha summoned the Alien Rangers (or Aquitar Rangers) to basically be substitute rangers. The Aquiar rangers wore the same suits that were worn in Kakuranger. The big problem with the whole Alien Ranger arc was that none of these characters got proper character development.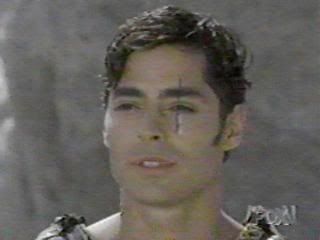 In Zeo, Trey of Triforia was the Gold Ranger. He came to earth to help the power rangers and kept his identity secret until he crash landed on aquitar, when the Aquatians revealed his identity to the Power Rangers. He was then sent to earth and nearly drowned. As a result, he split into three different personalities and had to pass his powers to Jason until he could reunite as a single person. Once reunited as a single person, he took his powers back and left earth.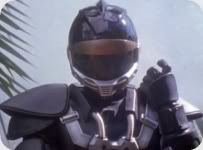 The Phantom Ranger in Turbo/In Space came from Zordon's home world, Eltar. He initially helped the rangers battle Divatox and later, search for Zordon. His identity was never revealed. The writing staff had planned to reveal his identity, but they were unable to do so because of budget reasons. Cassie had a crush on the phantom ranger.
This is debatable as to weather or not Andros is an alien since he's human, but since he was born and raised on KO-35, I'll call him an alien. Andros, who appeared in "In Space," is the first alien to be a full-time ranger during an entire season. 4 of the 5 Turbo Rangers (Cassie, Ashley, T.J., and Carlos) found Andros on a distant planet. Initially he didn't want to fight with them, but changed his mind and gave the Turbo Rangers the astro-morphers. His sister, Karone, was the main villain of In Space, Astronema (which I'll talk about later in this post).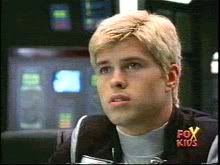 Zhane, like Andros, is from the planet KO-35. He was Andros' best friend and original teammate. Two years before the events of In Space during the battle of KO-35, he was injured and nearly killed. He was frozen and put into suspended animation to keep his body alive. When he woke up, he fought alongside Andros and the other rangers.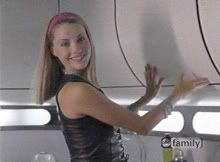 Karone, Andros's sister, was also originally from KO-35. When Andros and Karone were kids, she was kidnapped, and raised by Ecliptor to become Astronema. After the events of Countdown to Destruction, all evil was washed away from her and she became a normal human again. After the death of Kendrix, she was given the Galaxy morpher to become the Pink Galaxy ranger. Karone wanted to make up for all the wrong doing she did as Astronema. Originally, this role was planned to be given to Cassie, but the deal with Patricia Ja Lee (the actress that played Cassie), never fell through. Thus, Karone became the Pink Galaxy Ranger instead.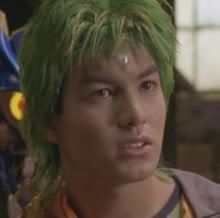 Trip from Time Force, was from the planet Xybria. He was residing on Earth during the year 3000 and along with the other Time Force rangers, he went back in time to 2001 to try to stop Rensik. Trip had the ability to read a person's mind through the jewel on his forehead.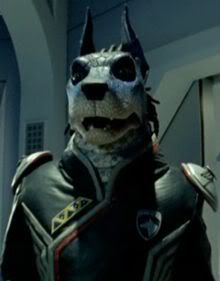 Doggie Cruger (not to be confused with Doggie Kruger from Dekaranger) is from the planet Surius. He became the chief of the earth branch of Space Patrol Delta. Midway through the series, he would become the Shadow Ranger. He was also the first ranger to be married, (his wife's name is Isinia). Cruger would defeat Emperor Grumm in the last episode of SPD.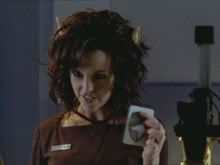 Although Kat only morphed once, I decided to count her as a ranger. She is an alien from an unknown planet. She's the rangers' technician, and was offered a job by Space Patro Delta away from the earth base, but choose to stay on earth instead.
A-squad blue was an alien from an unknown world. Though he has no official name, he is commonly called Beever. Along with the other A-Squad rangers, he turned evil to "be on the winning team." The A-squad rangers were ultimately defeated by the B-squad rangers.