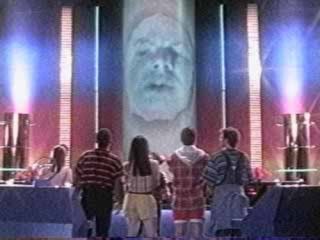 As is well known in Power Rangers fandom, the Zordon Era is much more popular than the Post-Zordon Era, even among fans who watched the show through RPM. Among the reasons why the Zordon Era is more popular include...
The post-Zordon Era broke away from traditional American and Power Ranger themes such as having a recurring past and storyline. This became very unpopular not so much in Lost Galaxy, but in Lightspeed Rescue which completely severed all connections to past seasons with the exception of the team up with the Lost Galaxy rangers.
While breaking away from recurring cast and storylines alienated some fans, its not the lone reason why Power Rangers lost its flavor in the post-Zordon Arc. Another reason is that 7 of the 11 post-Zordon era seasons, (8 if you include Wild Force) are Disney seasons. While there have been some popular seasons during the Disney Era, in particular Ninja Storm, Dino Thunder, RPM, and to an extent SPD, Disney's handling of the franchise has been very unpopular. Particularly the Bruce Kalish seasons.
Many of the post-Zordon Era seasons are virtual carbon copycats of their Sentai counterparts. While this is popular with some Sentai fans, it is for the most part, unpopular among the Power Ranger fandom. All of the Zordon Era seasons were completely original, with only a few episode plots being copied from Sentai material, the most obvious being the Psycho Rangers arc. This is evident in that many of the more popular seasons are virtually original in terms of plot, including MMPR, In Space, Dino Thunder, and RPM. Many of the more unpopular seasons such as Mystic Force, Jungle Fury, and Wild Force are virtual copycats of their Sentai counterparts.
Another reason that might be added is most seasons (save for Ninja Storm and Dino Thunder) either lacked or failed comic relief. The Zordon Era was truely Power Rangers at its campiest, which is one of the main reasons why it's loved by fans.