Fantasy Leader earlier asked me what I thought about the a couple Power Rangers In Space characters (Andros and Zhane) that I haven't mentioned much of. I decided to make a single post focusing on each of the In Space rangers. As mentioned before, the In Space cast is easily one of my favorites. One of the few good things about Turbo was the midseason cast change (though some didn't like it, particularly because it was midseason), which In Space inherited this cast sans Justin. The cast isn't quite as diverse personality wise as say SPD or RPM, but still very likable with many charming characters.
Andros is one of my favorite red rangers, and IMO the most well developed red ranger ever in Power Rangers. He got a lot of focus during this season, but unlike some other PR seasons that have too much red ranger focus (like Mystic Force), I felt Andros' heavy focus was well done. The rest of the cast members already got plenty of development during the second half of Turbo, so they could afford to give Andros more focus than the others. Besides, they also needed Andros to be relevant to the story and not just a mere "replacement" for Justin like some other past rangers have been, like Rocky and Aisha. What I really liked about Andros was the tragic aspects surrounding his character, particularly his home world KO35 being deserted, his kidnapped sister, and his best friend Zhane, nearly dying in battle. Initially, he was reluctant to let the Turbo rangers join him in the search for Zordon, but after seeing what nearly happened to Zhane it's easy to see why. I also felt he was a reasonably strong leader, not so much on the battlefield but in the search for Zordon. However, despite his all-business personality and tragic aspect, he was also a bit innocent, particularly with earthly customs.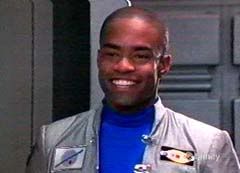 T.J. is awesome. Easily my favorite blue ranger and one of my favorite red rangers as well (despite the fact that it was Turbo and he set the megazord to self-destruct :P). What I really liked about T.J. was his charming, cool guy, easy going personality, which reminded me a lot of Zack. His actor, Selwyn Ward, is just as easy going as T.J., and I recommend watching
this interview with Selwyin.
I also liked the fact that he stood up for Bulk and Skull one time when they were accused of stealing packages. Also, during In Space, his strategy for defeating the Psycho Rangers redeemed himself for his failures in Turbo by self destructing the Megazord.
For me Carlos was ok. He got some good focus episodes such as Carlos on Call (despite the girl being a brat), Always a Chance, and Never Stop Searching. During Turbo, particularly before he became a power ranger, Carlos came off as somewhat selfish. I hate to compare him to other rangers, but compared to other black rangers such as Zack, Adam, Tommy, and Dillion, he just doesn't measure up to them as well and doesn't measure up as well against his co-cast members. Don't get me wrong he's not a bad character, it's just other than his thick Mexican accent he comes across as a fairly average.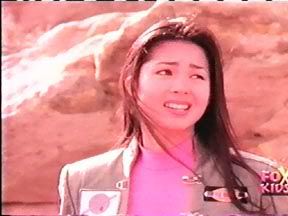 As I've said before, Cassie is my favorite pink ranger and also my favorite character on In Space. During Turbo, Cassie received a lot of development, particularly during the Phantom Ranger arc. She didn't get very many focus episodes during In Space but the ones she did get she really shined through, like A Rift in the Rangers and A Wasp with a Heart. I liked that she would stand up for herself against even the other rangers and stand up for a monster that really isn't bad at all. I really like her combination of toughness and punkish yet gentle and sweet. The only thing I didn't like is that the producers never used Patricia Ja Lee's martial arts abilities to their full potential like they were used in the movie Extreme Challenge.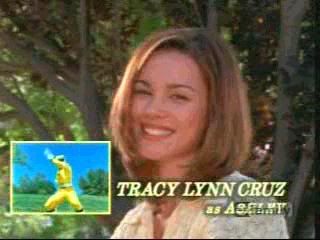 Ashley is also one of my favorite yellow rangers despite being somewhat underused IMO. The good thing about the In Space girls unlike some of the other PR girls (like the Zeo girls, Kimberly, and Madison from Mystic Force) is that they actually felt like they could hold their own and were equals to the guys. Ashley, while not as tough as Cassie, was a good fighter that wouldn't back down. She was sweet and bubbly, a lot like Kimberly was.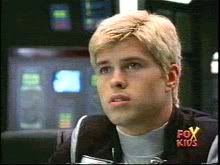 Zhane I felt was cool as well, and added another dimension to the In Space cast and story. His playboy, flamboyant personality created some interesting drama, such as the tension between him and Andros over Ashley and Zhane eventually dating Astronema. His fighting skills were good, and his development was fair. If anything, he's useful for helping his home world, KO-35 rebuild and for providing the tragic aspect of Andros's character. But like T.J. and Ashley, his personality was more than enough to make up for his lack of development.
Overall, I find it difficult to compare the In Space cast to other PR teams. Each of them had their own unique qualities. For In Space, it was the development and the charm of the characters that makes them great. MMPR's cast had many charming, likable characters that were exceptional martial artists. Zeo was the first season where the cast received strong development, particularly among characters like Rocky that didn't really get any development through a season and a half of MMPR. Time Force and SPD's cast are more or less the same as their Sentai counterparts, but with excellent acting and a bit less development than their Sentai counterparts. Dino Thunder was kind of a throw back to MMPR, with Tommy and some likable characters (except for Conner who's a douchbag). RPM's cast I felt was much more diverse than any other cast and was very much a Sentai like cast, complete with comic relief characters like Ziggy and badass lancers like Dillion. When trying to compare each cast, it's kinda difficult for me to do because most of the In Space characters have a charm about them that's hard to describe.