Before I get to the review I'd like to apologize for the lack of activity in the last couple of weeks. Some really big family issues have come up that along with school will limit my activity here for the next few weeks, although I'll still try to post on this blog whenever I can.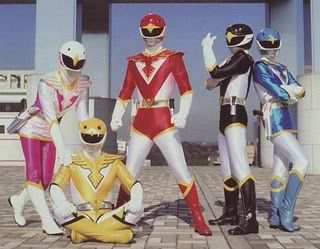 Choujin Sentai Jetman (Birdman Squadron Jetman) (1991-92) was the 15th installment of Super Sentai. It's a tribute to a 1970's anime series, Gatchaman. The motif seems to be one of an air force squadron, and reminds me somewhat of the American tv show Pensacola: Wings of Gold. Jetman is a dark and very violent season, which came before they toned down the violence after Dairanger. Jetman is one of the more popular (if not the most popular) Sentai's around. It even received a sequel manga series.
The Good
Jetman is one of the more complete seasons of Sentai with a strong combination of excellent villains, good cast, and solid storyline. The Vyram may be the strongest set of villains ever in Sentai. Radiguet is pure badass, although I kinda like Rio and Wolzard more. Tranza and Maria are also excellent villains. What I really liked was the rivalry between Grey and Gai, especially the mutual respect they had for each other and the last fight between them. Among the cast members the most popular is Gai, and it's easy to see why with his strong character development. However, my favorite character was Ryuu. I liked the tragic aspects of his character, with his girlfriend Rie, and how it helps him grow throughout the series. Gai and Ryuu compliment each other really well. I also like Ako and Kaori as well, finding them both to be lively characters. I also love the opening theme song, one of my favorites among 90's sentais.
The Bad
Raita's development was kinda pushed aside in the mix of the Ryuu/Maria plot and the Ryuu/Kaori/Gai love triangle. The only real big gripe I have is how unrealistic the fight scenes are. I mean seriously, how many times is Ryuu going to get shot and not come away with a scratch, or how long it takes for them to henshin sometimes when they're clearly outmatched? Also, the ending with Gai being killed was out of the air and totally unnecessary, imo.
The Ugly
There's nothing terrible about this series.
My Rating
B+/A-: I'm kinda conflicted about this series, in a good way. On one hand I like Timeranger a little better among the dark and gritty seasons, but on the other hand I think this is one of the more well made seasons. Either way, it's still a great series.
The "my favorite episodes" section will have to wait a while. I saw the last 33 episodes a few months after watching the first 18, and I don't have an episode guide to follow. I'll edit this section after I rewatch it probably during the summer.