A few weeks ago, I gave an analysis on
Power Rangers Samurai through 10 episodes
. Now I'm doing the same for Gokaiger after 10 episodes. Unlike Samurai, I think Gokaiger is on its way to being a pretty good season and has quite a bit of potential.
The Cast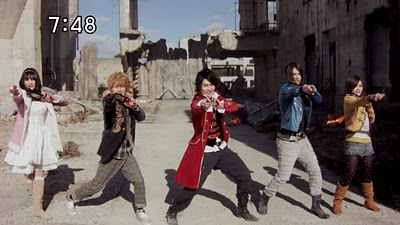 The cast is overall pretty solid. They're much better actors than the Samurai cast. The former Sentai warriors appearing as guest stars and the pirate motif make for some very interesting character development. My favorite character so far is Joe. Besides being an awesome swordsman, I think he has the most interesting backstory and potential, with him being a former member of the Zangyach and the story about his teacher. It seems Gokai Silver may be connected to his past as well. I can't wait to see the two parter coming up that involves him and Kaoru/Shinken Red. My second favorite is Luka. Of course, there's the looks factor but I also think she's kinda funny and sneaky. Unlike the original rumors that described Marvelous as Jack Sparrow-like, I think Luka is the most like Jack-Sparrow. Captain Marvelous is a bit cocky, but in a good way. He's the brave, confident leader who takes everything in a grain of salt. Ahim is the atypical character of the group, being the sweetheart princess of a destroyed planet. She kinda feels like a throwback to Natsuki in a way. I think she works perfectly well to balance the other anti-hero characters of the group. Don I'm still a bit mixed over. Initially I didn't like his cowardness but in the recent episodes he's shown some cleaver fighting tactics such as having his gun tied to a rope ready for use or hiding behind a bush to attack the Gormin. I'm still interested to see how he'll turn out.
The Nostalgia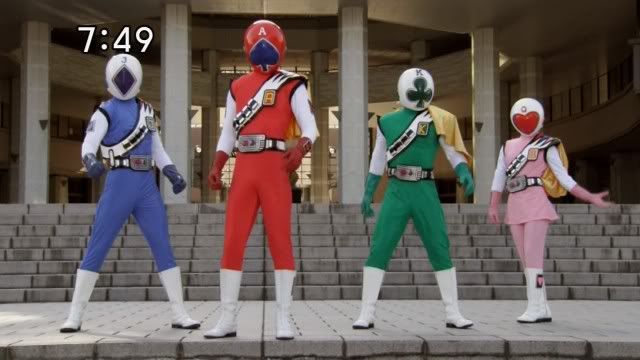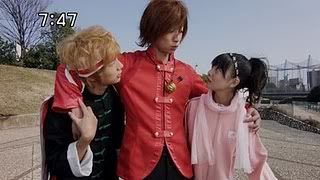 The nostalgia factor I think has been handled really well so far in Gokaiger. Among the anniversary seasons Gokaiger has dug the deepest into Sentai nostalgia by equipping the Gokaigers with all the powers of the previous Super Sentai warriors. The guest stars have been effective, not stealing the show but helping to develop the Gokaiger characters, such as the episode above with Jan training Doc and Ahim. I was a little bit dissapointed that Ban and Jasmine got such small roles in the Deka episode but it was still a good episode. My favorite of these guest star episodes so far was the recent one, with GaoRed appearing. Along the way, they're also increasing their arsenal by combining with old mechs such as GaoLion Gokai Oh, and doing it without having mecha overload problems, at least so far.
The Legendary War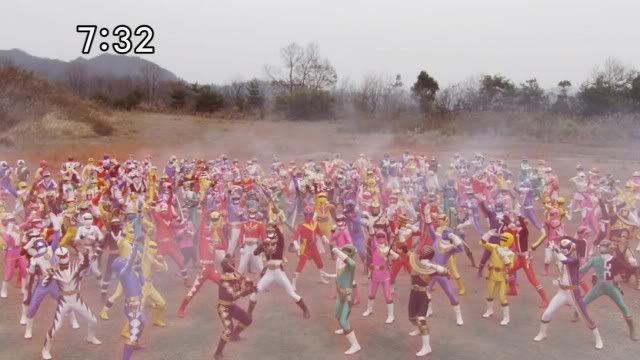 With the story of the Legendary War I really hope they dwelve deeper into it. The series doesn't have to be about the Legendary War, but I hope they give some more background to it, like how it started and how it pertains to the Gokaigers. Specifically the relationship between AkaRed and Captain Marvelous. It seems they will go deeper into it with the movie. It was definitely a good move and made for a fantastic start to the season.
Initially I was skeptical rather or not the pirate motif was going to work. Was it going to be one of those really old and dumb pirate shows like Captain Hook or was it going to be something cool like Pirates of the Carribean. As it turns out, the Pirate motif works out really well. They're space pirates and all the characters except for Ahim are anti-heroes. Their anti-hero traits make for some really interesting character quirks like Luka helping Joe to cheat in a card game, grabbing an expensive ring from a family, or Captain Marvelous not neccessarily caring what happens to the earth. These quirks also make for some really interesting character development.
The Villains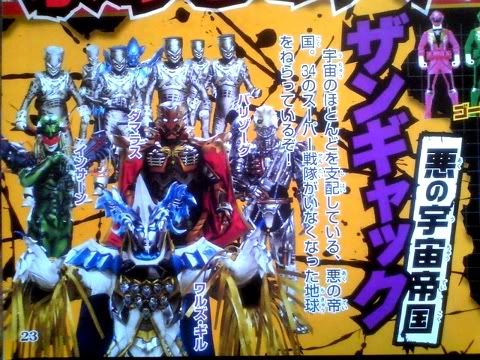 The villains haven't done too much yet but it's too early to tell whether they're good villains or bad villains. A lot will rest on how Joe's history with the Zangyack develops. It will be pretty interesting to see what happens.
So far I think Gokaiger has been running really well. I don't want to over-hype it or speculate on how good it can get, but I really think Gokaiger has some excellent potential to be an awesome season. It has me excited to see what happens next.