Among most Sentai characters, there's been many I've liked, some I feel are ok, some bland, and a few others that I disliked. However, there's a handful of characters that I don't know what to think about and generally have some mixed feelings about. Here they are.
Mei- Ptera Ranger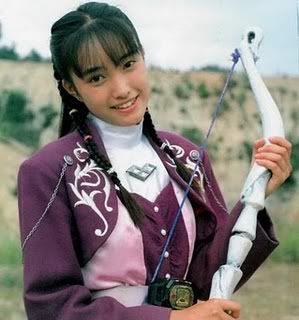 Generally, I think Mei is cute and some of Mei's focus episodes are pretty good (especially the punk episode with Dan). But other than Mei's "cuteness" and her rivalry with Lamie I feel she doesn't have much else to offer. She's really stereotypical of other pink senshi, granite she was one of the first kawaiiko's, and having a rivalry with one of the main villains is also pretty common among pink senshi. Also being the way Zyuranger is written, it feels often that the only two characters in Zyuranger that matter much to the story are Geki and Burai.
Naoto- Time Fire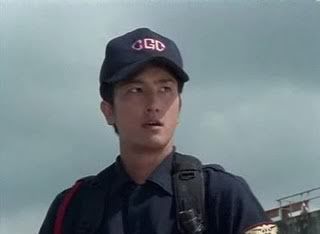 Naoto is on both my mixed and dislike list. The reason why he makes my mixed list is from a story perspective, he works out perfectly well. I felt like the first half of Timeranger is kinda slow and episodic, but when Naoto arrives the pace of the story really picks up. He added the spice to the story and another dimension. The problem I have is with his character, and he's the only Timeranger character that I don't care much for. I know some others may like it but I feel his arrogance makes him too unlikable for my taste. To me he comes off as too much of a jerkass, and unlike many other of the jerk-like characters like Gai, Hoji, and the Go-On wings, Naoto's attitude doesn't change the slightest bit.
Yousuke- Hurricane Red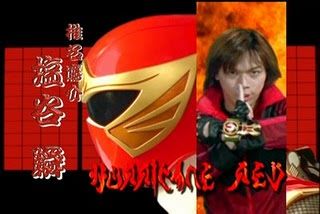 Yousuke really has me split. Sometimes I like him and other times I feel he's kinda bland. I really liked his rivalry and evolving relationship with Ikkou, but from a development and personality perspective there's not a lot to him. Especially when you compare Yousuke to many other red senshi. He's not a bad character, just that for a red senshi Yousuke feels like he's lacking.
Ran- Geki Yellow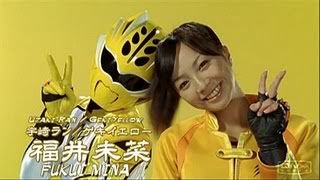 Ran is probably the character I like the most on this list. She's kinda like the kawaiiko and the action girl rolled into one. She's cute, sweet, and tough, kinda like a mix between Sakura (Bouken Pink) and Saki (Go-On Yellow). I think some of her focus episodes during the first half of Gekiranger are some of the better ones IMO, specifically 11, 15, and 23 where she was named team captain. What I'm really mixed about is her lack of development, focus, and how her leadership was handled during the second half of the season. While I think the second half of Gekiranger improves quite a bit with the action, story, characters, and drama, it falls short with Ran's development. After episode 23, she only got a single focus episode (37). Being the team captain, I felt they should have figured out how to squeez in at least a couple more focus episodes for her. In short, I like her character and don't have a problem with the character herself, I just don't like how her character was poorly handled by the writers.